Screen Size
| | |
| --- | --- |
| These on screen representations show the size of the videos available. | (Scroll Down) |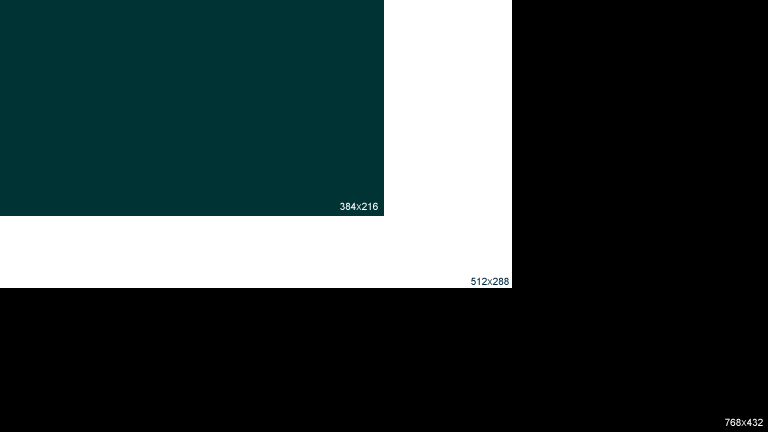 The larger the size you select, the clearer the picture, but the larger screen size you select, the bigger the file size (the longer it takes to download). Each format of a particular screen size is approximately the same file size, so the download time will be the same no matter which format you select.

If you have the patience, the largest size will give you the best experience.




Video Format
Beyond size choice is format choice, such as H264/MPEG4, Flash, Real Video, and Windows Media. Different formats have different "looks" to them. Some have sharper edges, some have better seek times (the time it takes to redraw the picture after you jump to a point later in the video).

For the best combination of ease of use and quality, go with Flash. You almost certainly already have the Flash player installed on your computer, and watching the video will simply require you clicking on the link. It's easy, it looks nice, and you'll be going in no time.

If you're a quality aficionado, you will receive the best overall experience using the H264/MPEG4 format, but viewing this format directly will likely require you to download software to play it. Software to play H264/MPEG4 videos is recommended below based on your computer comfort level.

If you're an everyday computer user
QuickTime - Easiest to install. Works well. Automatically loads Apple start page with software (advertisements which some can find annoying) and periodically asks you to upgrade to QuickTime Pro. Email address not required on download page. Plays Quicktime and H264/MPEG4.
If you've got a touch of a computer geek but you're still learning and/or you prefer open source options
VLC Media Player - Open source, freeware, fast seek times, custom skins, and no ads. Available installers for many operating systems (Windows/Mac/Ubuntu/Etc). Plays H264/MPEG4 as well as most video and audio formats such as DVDs, MP3s, and QuickTime. Doesn't play well with Windows Media Video. Doesn't play Real Video.
If you're a computer geek and/or prefer open source options
MPlayer - Open source, freeware, super fast seek time, very customizable, and no ads. Plays practically everything but requires manually extracting from ZIP, putting in directory, and associating file types. Plays Windows Media and H264/MPEG4 formats with single download as well as Real Video and most others formats found online with one additional "codec" download. Highly recommended (but only for those comfortable with Windows directories, preferences, etc.) MPlayer Home Page - Download [You'll want Windows GUI (Graphic User Interface)] - Easy 3rd Party Install - Portable USB Version - Changuito Skin (Use 7Zip to uncompress.)
H264/MPEG4 will give you the best quality and the best seek time (fast forward/rewind ability) with the above software.

Next in quality is Real Video. It takes a little patience setting it up, but once the Real Player is installed and tweaked, you won't have to futz with the ads and messages later.

Using the player from Real.com, you'll need to spend a few minutes installing it to set the preferences to your liking (for example, to opt out of the weather bug software and to choose the free setting which seemingly sounds inferior but will work fine). After that, it'll ask you for your personal info. Just click cancel and "exit" to opt of out giving it. You'll still need to right-click the "message center" to uncheck the numerous advertisements and announcements from constantly coming your way, too, but once the Real Player's set up to your liking, it works well. It's got a real company behind it, too, if you have problems. The picture quality and seek time are very good and good, respectively.

Windows Media Player is last in the list, in terms of both picture quality and average seek time. It does have one thing going for it that H264/MPEG4 and Real Video do not: it's already installed. That said, it's almost a certainty that you have Flash installed. Select Flash instead.

Candidly, while the picture quality of Windows Media is better than it ever has been before, it's still the worst of the formats available on the site. Unfortunately, due to it being the easiest choice, it will be the format most people will use to view the videos on the site. Having just written that, though, at the higher bitrates used at the site today, the Windows Media picture quality will be less than the others but still more than acceptable for most viewers.




Portable Formats
For portable format videos, just download the format which matches your portable video player. Each is optimized for the exact screen size of the player. PSP's have screens which are 480 pixels wide by 272 pixels high, the iPod Touch and iPhone have screens measuring 480x320, and the iPod Classic and Nano have screen resolutions of 320x240. The files are also bitrate optimized for the player's specifications.

For the PSP, you'll need Firmware Version 3.30 or later which should have automatically downloaded to your PSP. Just put the .mp4 file and the .jpg in the /VIDEOS/ folder on your Memory Stick and you'll be having fun instantly.

For the iPod and iPhone, just make sure you download the appropriate file and import it into iTunes. Make sure iTunes is set to sync all movies or that you've selected the file you just downloaded to be synced.